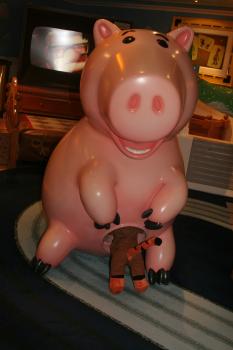 Click to enlarge image
Sometimes Tigger's curiosity gets the best of him. Always wondering what in here makes Hamm such a great part of the Toy Story movie!

Aboard the four Disney Cruise Line ships on deck 5 is a large area dedicated to events exclusive to under aged guests! In fact, in the cruise line industry, Disney Cruise Line dedicates more floor space than any other for young guests, but that should come as no surprise to anyone!

Andy's Room is but one of several side rooms in the Oceaneer Club. Under normal operations only children from 3 to 12 years of age are allowed in this area along with a significant number of cast members that run the programming here! Keep an eye on the Daily Navigator time grid or smart phone app for Open Houses when the Oceaneer Club opens up to all guests for special events!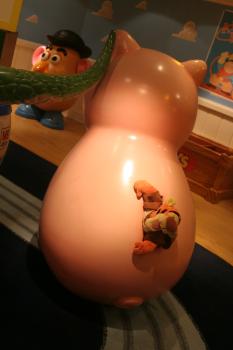 Click to enlarge image
Now what, Tigger? The screams could be heard all the way to the bridge as Tigger cried for help to get him out of the tight spot in which he landed!

Depending on the time of day young cruisers may have Story time in here, pajama party, scavenger hunt, dress up fun and even movie and cartoon time!

At other times guests can just enjoy active time to climb on, crawl through and pretend with the various live sized characters. There is even a toy box with several of the classic Potato Head parts to re-create scenes from every fan's favorite Toy Story movie!

This is one place that Tigger cannot wait to return for more stimulating fun to build even more interactive memories!

#‎TiggerTravels‬
‪#‎TiggerTravelsSite
#‎TiggerTravelsDotCom‬‬
#Tigger‬

Date taken: 2016 10

Important Links:

John Ratzenberger plays Hamm, the beloved coin bank pig in Toy Story