I have always heard rave reviews about the chicken served at the YARDBIRD SOUTHERN TABLE & BAR and growing up in the South I am a lover of Fried Chicken. On a recent trip to Las Vegas I realized there was one at the Venetian hotel so I immediately made reservations for lunch. We arrived a few minutes early and were seated immediately at a comfortable table for two. Our server offered us drink choices and recommended several cocktails but since I wanted to do shopping afterwards I figured alcohol and credit card were not a good mix. The server was very knowledgeable about the entrees and told us about some of the specialties, but my mind was already set. From the reviews I read online I knew we were going to share the famous Chicken 'n Watermelon 'n Waffles. This dish consists of 4 pieces of fried chicken, chilled spiced watermelon and a cheddar cheese waffle with honey hot sauce and bourbon maple syrup on the side. Just thinking about it makes my mouth water.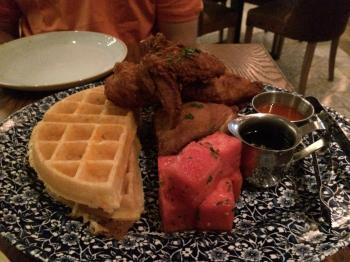 Click to enlarge image
Chicken n Watermellon n Waffles. Honey hot sauce, chilled spiced watermelon, vermont sharp cheddar cheese waffle and bourbon maple syrup

When our lunch came out, I was so glad we only ordered 1 because it is more than enough for 2 people to share. I found the fried chicken was cooked to perfection. Crisp with a well spiced breading on the outside and tender and juicy on the inside. Every bite melted in my mouth. The chicken is delicious plain or drizzled (we dipped) the honey shot sauce. The sauce has just a hint of sweetness and a little bit of heat at the end of the bite. Very delicious. I will sometimes shy away from hot sauce in restaurants because I can't regular the "heat" but this one was perfect all the flavor none of the harsh burn.

The accompanying waffles were light and fluffy and the addition of the sharp cheddar cheese toned down the sweetness so when the bourbon syrup is ported on top it creates a sweet and savory balance that compliments the star of the meal "the chicken". The spiced watermelon was also a nice touch it was defiantly out of the box thinking and a refreshing treat.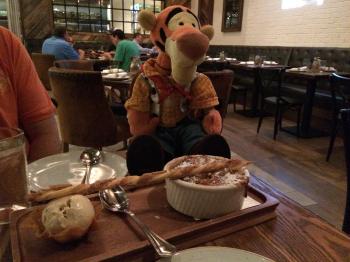 Click to enlarge image
Peach Cobbler. Marzipan crumble, french vanilla ise cream, florentine almond cookie bowl and a cinnamon twist! Lip smacking TIGGERIFFIC!!

After this incredible meal we were not sure if we wanted dessert until our server told us about the made to order individual peach cobbler with vanilla ice cream. Who can pass that up? (NOTE: if you want the Peach Cobbler order it at the beginning of the meal as each and every peach cobbler is custom made when ordered and it takes about 30 minutes) Again we ordered one to split. While waiting on our custom dessert the manager spotted Tigger and made his way over to say hello. We had a great time talking about Disney. Tigger loves making new friends and he made plenty at the Yard Bird.

Back to dessert, the cobbler came out in an individual ramekin dish and the presentation was very southern coming out on a wood tray. One bite and all I can say is while eating it felt like I was sitting on grandma's porch on a beautiful spring day eating nothing but love. It was the perfect combination of peach and crumble with a sweet rich sauce. The only thing I was missing was a big glass of sweet tea to wash it down. Next time I will know better and Tigger will be stopping by the YARDBIRD SOUTHERN TABLE & BAR every chance he gets.


#‎TiggerTravels‬
‪#‎TiggerTravelsSite
#‎TiggerTravelsDotCom‬‬
#Tigger‬

Date taken: 2016 07

Important Links: