Recently, a friend was asking advice for travel and for some reason this was the first thing on my mind! It is not something significant,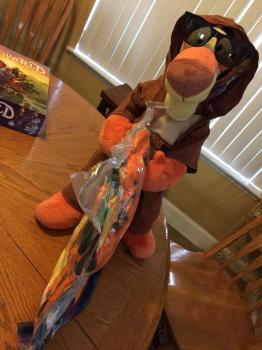 Click to enlarge image
Tigger's wardrobe fits in a 2 gallon freezer bag. That is 12 outfits and a halloween costume.

but there are a lot of uses that can help you along any trip!!


Food storage - When traveling, especially by backpack, a one gallon sized ZipLoc bag is a great place to store extra food on the way. There are always leftovers that will stay good for a period of time ranging from a few hours (till the next meal) or a couple days. Unfortunately, many foods do not come with resealable containers convenient for traveling light and compact. Just drop it in a ZipLoc bag, squeeze as much air out as you can and voila! Food storage.

Dry stuff - One of the best examples is Laundry detergent. A couple cups of dry laundry detergent dropped in a quart sized bag is light and easily conforms to available space in the bottom or top of a backpack. Best part? Clean clothes!!

Laundry Machine - Face it, on any trip there will come a time when you make a mess involving clothes. Being able to clean it on the go is very convenient. Next time you are at a water source, add the soiled garment, a tablespoon of laundry detergent (see Dry Stuff above) and a quart or two of water. Seal the bag, shake it real good, rinse out the clothing and hang it up to dry while you sleep or from a cable tie on your backpack. POOF! Clean Clothes!!

Wet stuff - We all have a favorite shampoo, lotion or other non-dry good we like to travel with. Drop two or three bottles in an appropriately sized ZipLoc bag and squeeze out the extra air. You have a package that will fit anywhere the bottle itself would PLUS if it happens to leak it will not soil the rest of your clothes or other belongings in your bag.

Small stuff - We all have little items that we travel with, whether it is underwear, socks, lip balm, chargers, jewelry, medications or anything else small! The worst part is when customs or security opens your bag and things spill out everywhere! Well, classify them into a few bags and no more spilling!

Waterproof valuables - Wallets, cameras, phones and more can get damaged if you fall in water. Stick it in the appropriate sized ZipLoc bag and POOF! It is dry no matter where you go! One really cool thing? You can still use your phone or camera while it is in a dry place. Get the lens correctly positioned and you can even take pictures!

Protect breakable souvenirs - If you purchase something fragile, fill a few quart size bags with air to create little pillows that will pack it in securely!

Organize Clothes - Especially for younger travelers, pack each day's change of clothes in a bag with the name of the day. No more waiting for the decisions during a busy trip! Pull out the labeled bag, change and go!!

Swimsuit bag - (Fits in wet stuff but deserves special mention) Put wet swimwear in one so that other stuff does not get wet.

Airport Inspection - One quart sized bag... sound familiar? Required by airports!

Ice pack - Get some ice and you have an instant ice pack to soothe aches and pains of the day's wanderings! Suggest wrapping it in a thin towel or clothe, too.

Currency - Sort money from different countries for easier use.

Wet Wipes - Face/makeup cleaning clothes, Cleanup wipes for the dirty toilet seat we all dread or just a little water in with a face clothe or two that are very refreshing after sweating a lot! Just squeeze out as much air as possible.

Dirty Clothes isolated - Stick dirty clothes in a big one for a laundry hamper.

Drain plug - Most likely, the place you are staying does not have a way to plug a drain. Fill a bag with a little water, drop it over the drain and POOF! Basin of water!

Tigger likes to travel with several sizes of ZipLoc bags, many quart sized bags, 20 to 40 gallon sized bags for a two to three week trip and a dozen or so two gallon bags. Look for the heavy duty bags, even freezer bags are great!

#‎TiggerTravels‬
‪#‎TiggerTravelsSite
#‎TiggerTravelsDotCom‬‬
#Tigger‬

Recommendations for Cruise Ships

Date taken: 2016 07

Important Links: