Tigger Travels - Journal of Adventures. (not a travel agent)
Photos From Tigger`s Travels and MORE!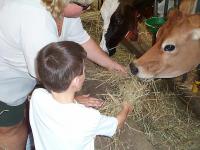 Vacation to Chicago
Lincoln Park Zoo
Click title to see 4 more pictures


We visited Lincoln Park Zoo in Chicago.

Adam and Val got to feed cows and horses.

We saw lions and flying pigs.
...